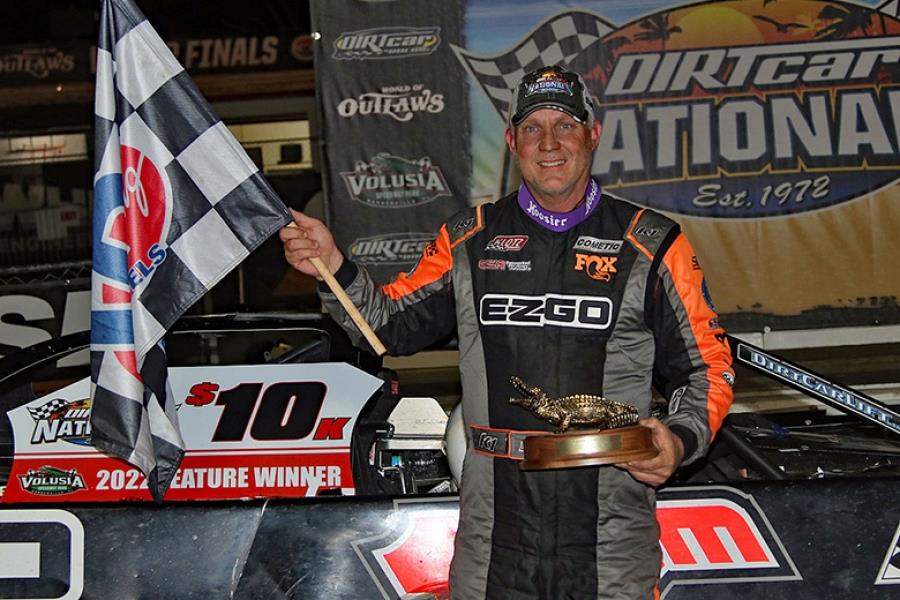 ---
McDowell returns to victory lane in DIRTcar Nationals at Volusia
Dale McDowell and Shane McDowell Racing enjoyed a successful week of racing with their Shane McDowell Racing/ E-Z-GO No. 17m Cometic Gaskets/ Klotz Synthetic Lubricants / Team Zero Race Cars/ Clements Racing Engine Super Late Model during the 51st annual DIRTcar Nationals at Volusia Speedway Park. (Jim DenHamer photo)
In seven events McDowell registered a $10,000 triumph along with five Top-5 finishes and six Top-10 finishes.
"It means a lot to me to just be back in the driver's seat after my health issues late last year. To win and be contending for wins every night is really special. We were in contention every night at Volusia (Speedway Park), and even the night we had a DNF, we were running in in the Top 3 when we got turned around," McDowell noted. "I can't say enough about Shane and Sara (McDowell) and everyone with this team as well all of our sponsors. Everybody has stood strong behind us through the uncertainty of last year. While I'm not 100% yet, I'm slowly getting there, and I'm looking forward to everything this season has to offer."
Dale McDowell returned to the driver's seat of the E-Z-GO No. 17m Super Late Model on Monday evening at Volusia Speedway Park (Barberville, Fla.) as the 51st annual DIRTcar Nationals roared to life.
Drawing 47 cars, Dale followed up the eighth-fastest time in his group with a heat race victory. Slipping one spot in the 30-lap feature, McDowell posted a fifth-place finish. He trailed Ricky Thornton Jr., Chis Madden, Devin Moran, and Brandon Overton to the checkers.
For another $7,000-to-win A-Main on Tuesday, McDowell's second-place finish in his heat race lined him up ninth on the starting grid for the feature. Clawing forward two spots, Dale recorded a seventh-place outing.
In a field of 58 cars on Wednesday as the remainder of the week became World of Outlaws Case Construction Late Model Series sanctioned, Dale clocked in third-fastest in his group before picking up a heat race win. After climbing as high as second, McDowell was spun by another competitor. while running third. With a make-up feature still on the night's docket he elected to retire from the remainder of the feature.
Later Wednesday evening for the rescheduled Sunshine Nationals feature from January 22nd, McDowell faded back to fourth in the early going of the 40-lap affair but gained momentum late to finish second. He followed Ashton Winger across the line.
On Thursday, Dale laid down the sixth-fastest time in his group before placing first in his heat. Tracking down race-long leader Kyle Hammer on lap 18 of the feature, McDowell paced the field in the remaining distance of the 40-lapper to claim his second win of the season and a $10,000 prize. He finished ahead of Devin Moran, Darrell Lanigan, Chris Madden, and Tyler Bruening.
Following the third-fastest lap in his group on Friday, McDowell outdueled Spencer Hughes in his heat to bag the eight-lap victory. Receiving the sixth-starting position for the A-Main via the redraw, Dale passed one car to register a fifth-place finish, which came behind Dennis Erb Jr., Chase Junghans, Darrell Lanigan, and Brandon Sheppard.
For the finale on Saturday, Dale's heat race triumph promoted him into the redraw. Starting the pole, McDowell paced the field first opening 12 circuits but surrendered the lead to Chris Madden on lap 13. He went onto place third in the 40-lap finale, trailing Chris Madden and Mike Marlar to the checkers.
Back to News