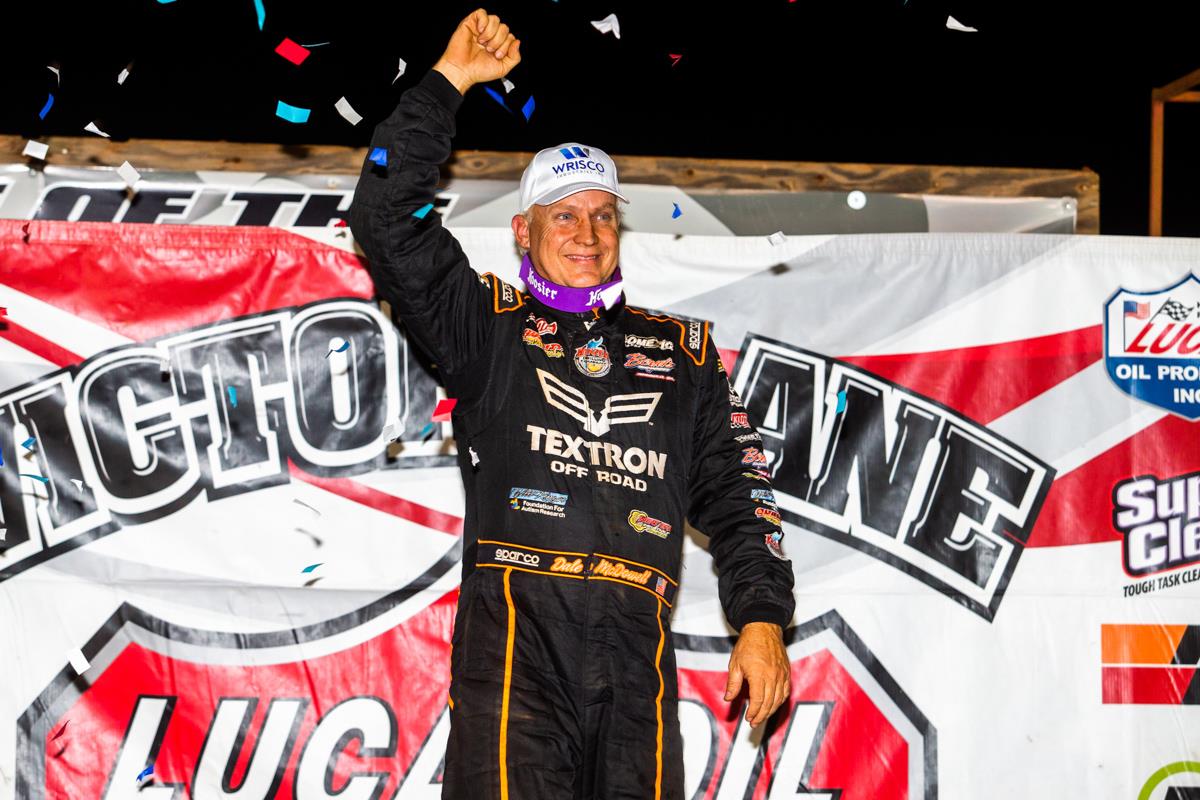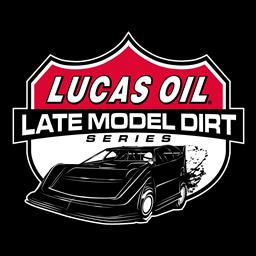 9/29/2018
Lucas Oil Late Model Dirt Series
---
McDowell Captures Fourth Dixie Shootout
WOODSTOCK, GA (September 29, 2018) – Dale McDowell dominated the Lucas Oil Dixie Shootout on Saturday night at Dixie Speedway. The Georgia native set the Miller Welders overall fast time, won his heat, and led all 50-laps to score his fourth-career win in the annual event.
Jonathan Davenport finished second after making several charges at McDowell throughout the main event. Josh Richards finished in third after yielding second to Davenport on lap 18. Brandon Overton came across the finish line in fourth. Tim McCreadie notched his second-straight top five finish with his fifth-place run.
"It was a great night for us. We qualified well and started up front. Thanks to Shane [McDowell] and everybody with the team. They all worked extremely hard on this car and it paid off tonight. I was thinking of Mike [Swims] when I came around for the checkered flag. I felt like he was talking to me and saying good job buddy or something like that. Thanks to all of the Swims family, this place has remained such a solid piece of racing history for years and years. Thanks to all of you race fans, without you, we couldn't do this."
A caution with 25-laps completed helped McDowell as Davenport had cut the gap between the two. "I never thought I would see the day when clean air is so important in dirt track racing. When I got behind those guys I was trying to lap, it was dirty, messy air, and I couldn't maneuver the car like I wanted to. When you are out front in those situations, you are just a sitting duck. Those guys behind you are going to go where you aren't."
"I figured JD [Davenport] was on the top side and Shane [McDowell] was giving me signals that he was closing. He looked really good in his heat, so I figured he was on the top side and Josh was in the middle. I had to get kind of greedy and those guys are tough week in and week out. It's so special to win this race," said the 52-year-old driver in Lucas Oil Victory Lane for the ninth time in his career. With his win, he becomes the 19th different winner on the tour in 2018.
"I really don't know if I wanted to see that caution at lap 25," said Davenport, who extended his series point lead with his runner-up finish. "We were pretty good in lapped traffic. We were quite maneuverable and that's how we got by Josh. The track was cleaning up in a hurry. Congratulations to Dale, he had tough luck last night while leading at Tri-County. This might be the best I have ever raced here. I grew-up about an hour and a half from here. It was a great points night for us as well."
Richards was happy with his podium finish. "We had a really good car tonight. I have to thank Clint Smith for giving me some pointers, he has a lot of experience racing here and it definitely helped me. We had a pretty good car for the feature. We just need to fine tune it a little bit. Towards the end I was just trying to ride and save the right rear tire."
The winner's Sweet-Bloomquist Race Car is powered by a Clements Racing Engine and sponsored by: Textron Off-Road, New Era Industrial, Klotz Synthetics, Cometic Gasket, Will Kinzer Foundation for Autism Research, and Quality Natural Gas.
Completing the top ten were Casey Roberts, Tyler Millwood, Jimmy Owens, Don O'Neal, and Earl Pearson Jr.
Lucas Oil Late Model Dirt Series
Race Summary
Saturday, September 29, 2018
Lucas Oil Dixie Shootout
Dixie Speedway – Woodstock, Ga.
Miller Welders Time Trials
Fast Time Group A: Dale McDowell / 14.455 seconds (overall)
Fast Time Group B: Tyler Millwood / 14.573 seconds
Eibach Springs Heat Race #1 Finish (10 Laps, Top 4 Transfer): Dale McDowell, Cla Knight, Michael Brown, Justin Shipley, Zach Leonhardi, Frank Ingram, Gregg Satterlee, Kyle Bronson, Scott Bloomquist, John Henderson, Scott Groves
FK Rod Ends Heat Race #2 Finish (10 Laps, Top 4 Transfer): Josh Richards, Casey Roberts, Brandon Overton, Donald McIntosh, Ray Cook, Steven Roberts, Dalton Polston, Will Roland, Aaron Wilson, Blake Spencer, Cass Fowler
Simpson Performance Products Heat Race #3 Finish (10 Laps, Top 4 Transfer): Tyler Millwood, Jimmy Owens, Austin Horton, Clint Smith, Dennis Erb, Jr., Jason Croft, Austin Tyler Smith, Lamar Haygood, Brian Connor, Kenny Collins, Eric Granger
QA1 Heat Race #4 Finish (10 Laps, Top 4 Transfer): Jonathan Davenport, Tim McCreadie, Earl Pearson, Jr., Don O'Neal, Jason Hiett, Mason Zeigler, Darrell Lanigan Aaron Ridley, Bobby Pierce, Rob Mayea, Michael Page
Penske Racing Shocks B-Main #1 Finish (12 Laps, Top 3 Transfer): Ray Cook, Zach Leonhardi, Frank Ingram, Steven Roberts, Kyle Bronson, Gregg Satterlee, Aaron Wilson, Dalton Polston, Will Roland, Scott Groves, John Henderson, Cass Fowler, Blake Spencer, Scott Bloomquist-DNS
FAST Shafts B-Main #2 Finish (12 Laps, Top 3 Transfer): Jason Hiett, Dennis Erb, Jr., Jason Croft, Darrell Lanigan, Austin Tyler Smith, Mason Zeigler, Aaron Ridley, Michael Page, Bobby Pierce, Lamar Haygood, Kenny Collins, Rob Mayea, Brian Connor-DNS, Eric Granger-DNS
Lucas Oil Feature Finish (50 Laps):
FINISH START CAR # DRIVER NAME HOMETOWN EARNINGS
1 1 17m Dale McDowell Chickamauga, GA $12,000
2 4 49 Jonathan Davenport Blairsville, GA $6,400
3 3 1R Josh Richards Shinnston, WV $4,500
4 11 76 Brandon Overton Evans, GA $2,750
5 8 39 Tim McCreadie Watertown, NY $2,950
6 7 101 Casey Roberts Toccoa, GA $1,800
7 2 31T Tyler Millwood Kingston, GA $1,500
8 6 20 Jimmy Owens Newport, TN $2,100
9 16 5 Don O'Neal Martinsville, IN $2,000
10 12 1 Earl Pearson, Jr. Jacksonville, FL $1,900
11 14 06 Clint Smith Senoia, GA $1,075
12 10 16 Austin Horton Whitesburg, GA $1,050
13 21 F9 Frank Ingram Woodstock, GA $1,025
14 23 0 Scott Bloomquist Mooresburg, TN $1,800
15 18 1J Jason Hiett Oxford, AL $1,000
16 25 14 Darrell Lanigan Union, KY $800
17 17 53 Ray Cook Brasstown, NC $1,000
18 9 79 Michael Brown Lancaster, SC $1,000
19 20 28 Dennis Erb, Jr. Carpentersville, IL $1,700
20 24 32 Bobby Pierce Oakwood, IL $1,700
21 22 9J Jason Croft Woodstock, GA $1,000
22 26 22 Gregg Satterlee Indiana, PA $800
23 19 24 Zach Leonhardi Cartersville, GA $1,000
24 5 42 Cla Knight N. Augusta, SC $1,000
25 13 08 Justin Shipley Douglasville, GA $1,000
26 15 7 Donald McIntosh Dawsonville, GA $1,000
Race Statistics
Entrants: 44
Lap Leaders: Dale McDowell (Laps 1 – 50)
Wrisco Feature Winner: Dale McDowell
Margin of Victory: 0.646 seconds
Cautions: Justin Shipley (Lap 25)
Series Provisionals: Scott Bloomquist, Bobby Pierce
Series Emergency Provisionals: Darrell Lanigan, Gregg Satterlee
Optima Batteries Hard Charger of the Race: Scott Bloomquist (Advanced 9 Positions)
Midwest Sheet Metal Spoiler Challenge Point Leader: Jonathan Davenport
Allstar Performance Power Move of the Race: Brandon Overton
Sunoco Race for Gas Highest Finisher: Jonathan Davenport
Hot Rod Processing Rookie of the Race: n/a
COMP Cams Engine Builder of the Race: Clements Racing Engines
Ohlins Shocks Chassis Builder of the Race: Sweet-Bloomquist Race Cars
Outerwears Crew Chief of the Race: Shane McDowell (Dale McDowell)
Fastest Lap of the Race: Dale McDowell (Lap #4 – 15.5673 seconds)
STEEL-IT Most Laps Led: Dale McDowell (50 Laps)
Dirty Girl Racewear Farthest Traveler: Tim McCreadie
PFC Brakes Pole Award: Dale McDowell
Time of Race: 20 minutes 10 seconds
---
Submitted By: Jeremy Shields
Back to News