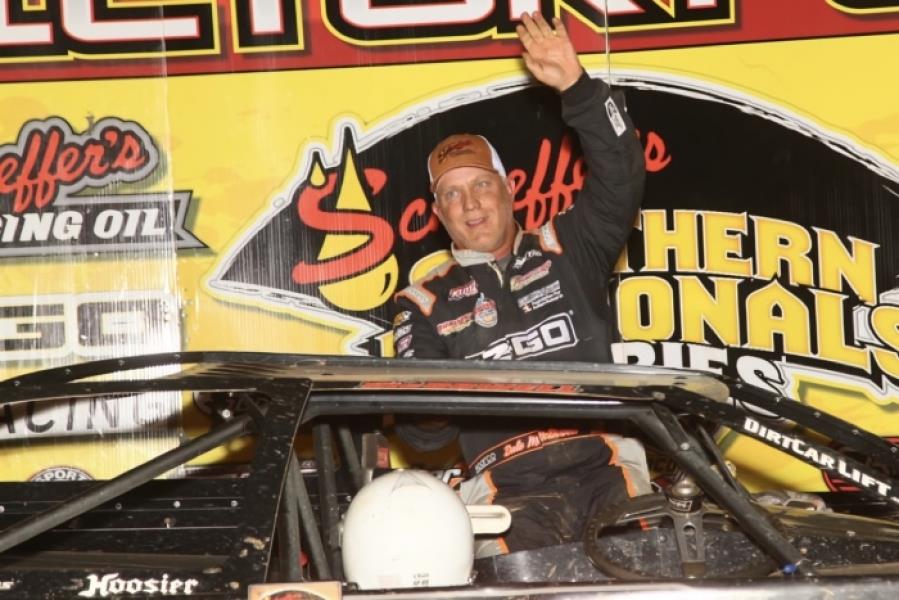 ---
Dale McDowell banks $10,053 Southern Nationals wins at Wythe and Volunteer
Dale McDowell visited Victory Lane twice over the weekend with his Shane McDowell Racing/ E-Z-GO No. 17m Cometic Gaskets/ Klotz Synthetic Lubricants / Team Zero Race Cars/ Clements Racing Engine Super Late Model. (Michael Moats image)
The National Dirt Late Model Hall of Famer won back-to-back $10,053-to-win events on Saturday and Sunday at Wythe Raceway and Volunteer Speedway to push his 2022-win total to five.
After registering a sixth-place finish in the miniseries opener on Friday night at Beckley Motorsports Park, McDowell had to rally from the ninth-starting spot to win Saturday's event at Wythe Raceway.
"We really kind of gave up — or I didn't give up — but we really was lost and didn't know exactly what to do," McDowell said. "We made some mistakes in the heat and was a little bit off qualifying. And so (Dale's brother) Shane (McDowell) kept digging, kept digging, kept digging, and made some adjustments, and the car drove right up through there so it was really good."
Then on Sunday night not even an hour-and-a-half rain delay or a tough field of competitors could slow him down at Volunteer Speedway. He again took control of the lead late in the race for his second win in as many nights.
"Well this place is just awesome and these great race fans make it all worth it," exclaimed McDowell in Schaeffer's Oil Victory Lane. "This track got slick and that's more this old man's speed. Earlier there (in the feature), Jensen fired off good and I didn't know if I was going to have anything for him - I was a little free. But once it slickened up and we couldn't charge the corners as hard, the car balanced out. I need to thank E-Z-GO, Klotz Synthetic Lubricants, Cometic Gaskets, CSA, Fox Racing Shox, Northeastern Fabrication, the entire team, and just everybody that makes this thing go around. I always look forward to coming to this place, as it's been awfully good to me through the years!"
Friday night found Dale McDowell in action at Beckley Motor Speedway (Beckley, W.V.), piloting the Shane McDowell Racing No. 17m Late Model in the 2022 Schaeffer's Southern Nationals opener.
With 32 Late Models entered, McDowell qualified third-fastest in his group before placing second in his heat. Carrying a steady pace in the 53-lap feature, Dale crossed the finish line in sixth.
For the second round of the 12-race tour on Saturday at Wythe Raceway (Rural Retreat, Va.), Dale's third-place finish in his heat race positioned him on the fifth row for the main event. Tracking down race-leader Cory Hedgecock with a pass in turn one on lap 37, McDowell raced to his fourth win of the season ahead of Hedgecock, Michael Brown, Vic Hill, and Camaron Marlar. He earned $10,053 for his eighth career Schaeffer's Southern Nationals triumph.
Action continued on Sunday evening at Volunteer Speedway (Bulls Gap, Tenn.), where 31 entries had to wait out over an hour rain delay before qualifying. When action resumed, Dale hit the ground running with an 11.926-second lap around the 4/10-mile oval, which marked the fastest overall. He then won his heat race to earn the pole position for the feature.
As the 53-lap feature went green, McDowell slipped to second behind Jensen Ford. He pursued the leader until lap 34, when he raced to the top spot. McDowell paced the remainder of the event to bank the $10,053 victory, which marked his fifth of the season.
Jensen Ford, Mack McCarter, Sam Seawright, and Dakota Knuckles completed the Top-5 finishers.
Full results from the weekend are available at www.SouthernNationalsSeries.com.
Article Media
Back to News